Integrative Pain Science Institute Blog
The latest information, strategies, and research on safe and effective ways to treat chronic pain.
All
Acceptance and Commitment Therapy
ACT
addiction
Adrenal fatigue
Aging
Articles
Autoimmune
Back Pain
Back Pain
Better Health
Book Reviews
brain
Center for Disease Control
central sensitization
central sensitization and low back pain
Cervical Spine
Child birth
Chronic fatigue
Chronic Pain
Couplex Regional Pain Syndrome
Cross-reactivity
CRPS
Depression
Diabetes
Drug Warning
exercise
Exercises
Fear Avoidance
Feature 1
Fibromyalgia
Gluten
Golfer's Elbow
grain free
Gut health
Gut health
Healing Pain Summit 1
Healing Pain Summit 2
Health Coaching
healthy movement
Healthy Tips
Heart Disease
Herniated disc
high blood pressure
HPA Axis
IBS
imaging
inflammation
Integrative Pain Care
Joe Tatta
joint pain
Journaling
KNEE PAIN
Lateral Epicondylitis
leaky gut
Meditation
Meditation
Mindbody Syndrome
Mindfulness
MRI's
Multiple Sclerosis
Neck Pain
nervous system
no grain
no pain
Nutrition
Nutrition
Obesity
Opioids
Opioids
oxalates
Pain
Pain Catastrophizing
Pelvic Health
Photos
Physical Limitation
Physical Therapist
Physical Therapy
Physical Therapy
PITP
Podcast 1
Podcast 2
Podcast 3
Podcast 4
Posture
Posture
Pregnancy
prescription drugs
relationships
Remove term: Acceptance and Commitment Therapy for Chronic Pain Acceptance and Commitment Therapy for Chronic Pain
Remove term: Psychologically Informed Physical Therapy Psychologically Informed Physical Therapy
Senses
stress
sugar
trauma
Uncategorized
Vitamin D
weight loss
weight loss
Weight-Loss
X-Rays
Yoga
Zen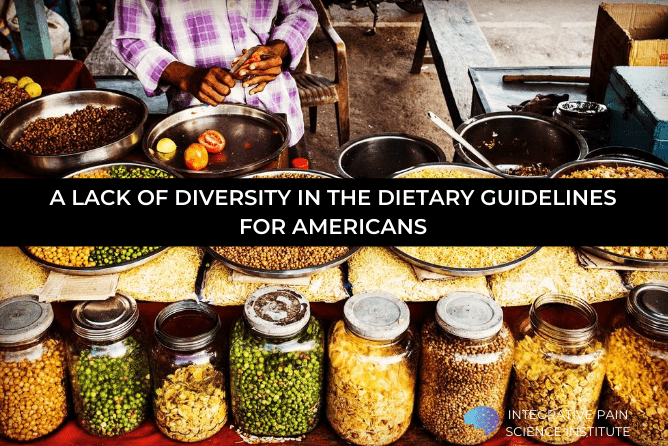 Traditional diets are patterns of nutrition and eating inspired by the rich culture and culinary histories of cuisines from around the globe. Emerging research affirms that ...