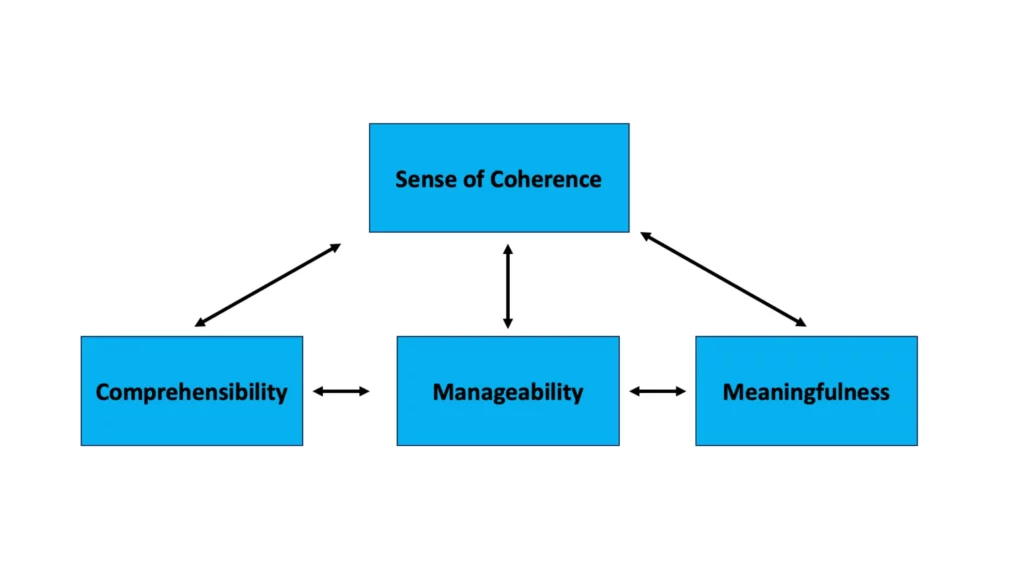 Forty years ago, sociologist Aaron Antonovsky developed a theory after investigating women who had survived and thrived after experiencing life in Nazi concentration camps. In contrast with the traditional pathogenic, disease-oriented model, Antonovsky's salutogenic theory views health on an ease/dis-ease continuum. People move along this continuum between the two extremes of 'total health' and 'total absence of health' or 'dis-ease to health-ease.'
People who successfully cope with the stressors surrounding their health maintain their health or move towards 'health-ease,' whereas unsuccessful coping results in the movement towards 'dis-ease.' At its core, the primary focus of salutogenesis is not on the mechanism underlying pathology but on how to successfully cope and move from "disease" to "ease." This is different to the traditional pathologic model of pain management. Learn more about salutogensis here. 

A Sense of Coherence and Pain Management

A central principle of salutogenesis is a sense of coherence. Sense of coherence is a multidimensional construct that encompasses three factors:
1. Comprehensibility – the ability to understand one's condition.
2. Manageability – realizing that the stressor or condition can be managed with available resources.
3. Meaningfulness – extracting something meaningful from the stress.
Sense of coherence is a flexible disposition that enables confident and effective coping with adverse experiences, thereby fostering optimal health.
There is evidence that salutogenesis and a sense of coherence impacts pain outcomes.
In a group of 67 people with osteoarthritis, low sense of coherence was a predictor of disease severity. Sense of coherence is also associated with the ability to perform daily occupations in people with pain and is a predictor of work reentry following pain rehabilitation. A study of 1665 employees with persistent pain found that those with a strong sense of coherence reported lower levels of anxiety (p < 0.001) and higher levels of functional health (p < 0.001) compared to a weak sense of coherence . Additionally, there is a consistent but small correlation between physical activity participation and a sense of coherence.

There is a consistent correlation between exercise and the engagement of physical activity participation and an improved sense of coherence. Indeed, sense of coherence is associated with a less severe pain experience.

From a preventive health perspective a sense of coherence is strongly associated with decreased mortality from comorbid non-communicable diseases (NCDs). A low sense of coherence predicts poor lifestyle choices such as dietary habits, sedentary living, substance use, and low health literacy. All of this impacts one's physical and mental health. A long-term population study of 854 men found a decline in sense of coherence is associated with all-cause mortality. Salutogenic approaches that boost ones sense of coherence also keep people flourishing with good mental health.
Finally, in the context of today's complex healthcare systems, considering salutogenic approaches and taking into consideration sense of coherence improves the patient experience, has been identified as a pillar of safe, effective, trauma-informed care. A sense of coherence has been utilized across healthcare organizations, communities, and environments to promoteand preserve health. Finally, contemporary evidence suggests a salutogenic approach could play a strong role in the development of public policy that positively shapes health promotion research and practice.
Improving one's sense of coherence around the pain experience emphasizes the innate capacity of individuals to create and maintain health and wellness in the face of adversity, disease, and pain.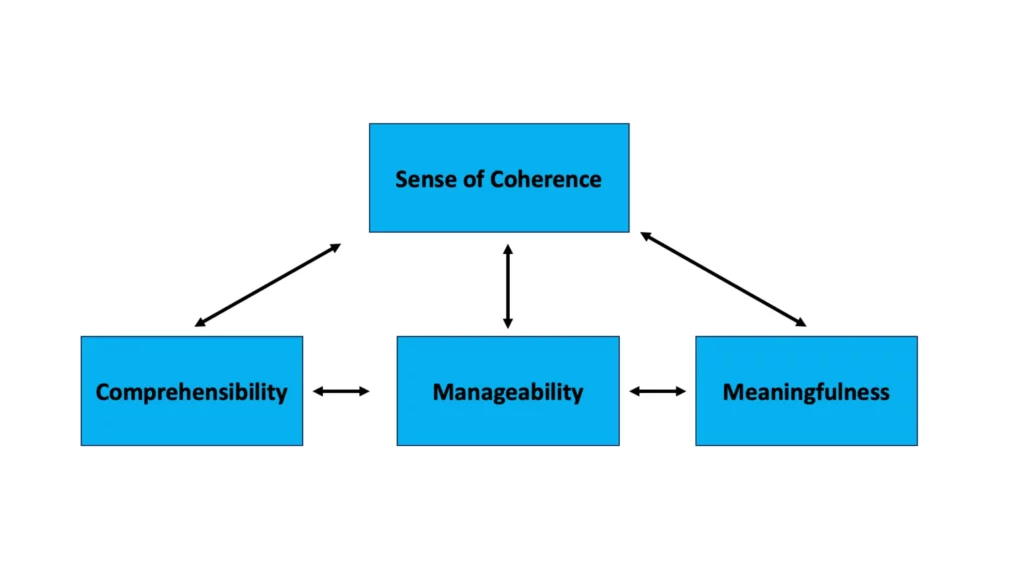 Salutogenesis is a mindset shift that empowers physical therapists and pain practitioners to view pain through a new lens. Resilience and growth amid pain and suffering can be achieved. This new strengths-based approach is life-affirming, positive, and optimistic. Instead of source searching for pain and nociception, Physical therapists can instead leverage processes that enhance resilience, nurture growth, and facilitate pain recovery.
Here is an image of the entire concept. If you are a visual learner like me you will benefit from seeing the whole concept together.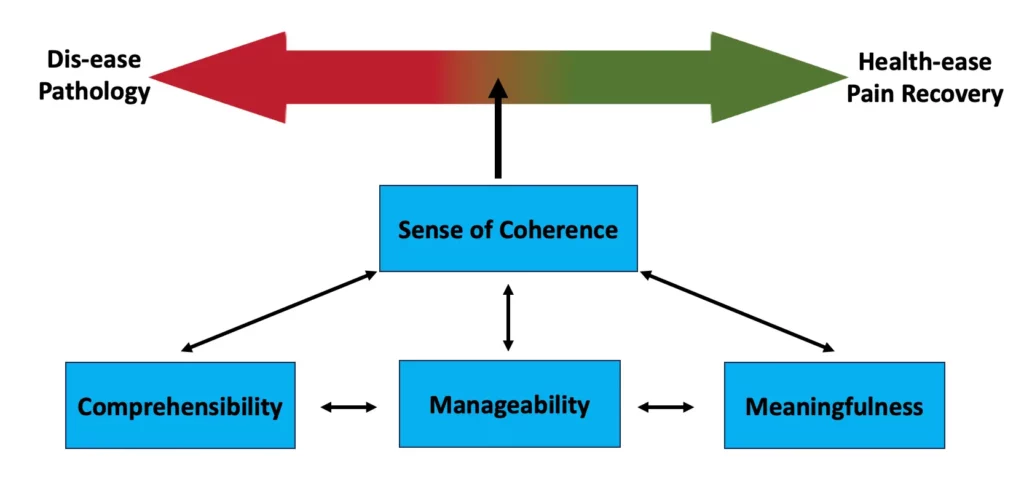 What do you see as the potential of such a model in pain care and physical therapy? What challanges or barriers exist within the American healthcare and pain care system that may prevent the implementation of this health-oriented approach to pain care. Join the conversation on Instagram and learn about safe and effective pain care from our community.

Here's to sparking health-ease on your pain relief journey,

Joe Tatta, PT, DPT
CEO Integrative Pain Science Institute
https://integrativepainscienceinstitute.com/
References
1. Tatta J, Pignataro RM, Bezner JR, George SZ, Rothschild CE. PRISM – Pain Recovery and Integrative Systems Model: A Process-Based Cognitive-Behavioral Approach for Physical Therapy [published online ahead of print, 2023 Jun 27]. Phys Ther. 2023;pzad077. doi:10.1093/ptj/pzad077
2. Schult ML, Söderback I, Jacobs K. The sense-of-coherence and the capability of performing daily occupations in persons with chronic pain. Work Read Mass. 2000;15(3):189-201.
3. Lillefjell M, Jakobsen K. Sense of coherence as a predictor of work reentry following multidisciplinary rehabilitation for individuals with chronic musculoskeletal pain. J Occup Health Psychol. 2007;12:222-231. doi:10.1037/1076-8998.12.3.222
4. Lillefjell M, Jakobsen K, Ernstsen L. The impact of a sense of coherence in employees with chronic pain. Work Read Mass. 2015;50(2):313-322. doi:10.3233/WOR-141838