As dedicated practitioners in pain management, we hold the torch of transformation for those seeking relief and renewal. Today I invite you to explore the concept of salutogenesis and its profound connection to resilience and positive growth in the context of pain recovery.
Salutogenesis, a term born from the Latin "salus" (health) and Greek meaning "genesis" (origin), offers us a refreshing perspective on our practice. It shifts our focus from the shadows of illness to the brilliance of wellness, guiding us to nurture the seeds of well-being that reside within each individual. As champions of this philosophy, we have the privilege of facilitating a journey that transcends pain, leading to a stronger and more vibrant life.
At the heart of salutogenesis lies resilience, a quality that resonates deeply with our mission. Resilience is the inner strength that empowers individuals to withstand adversity and emerge stronger, much like a tree that stands tall even after a storm. Our role as therapists is to foster and strengthen this resilience, helping our patients navigate the challenges that pain presents.
The path to pain recovery encompasses not just the physical, but also the emotional and spiritual dimensions of life. It's about acknowledging pain without surrendering to it and recognizing the potential for growth and transformation. As we guide our patients through exercises and movements, we also guide them on a journey of positive growth. Through each stretch and step, they learn to tap into their inner reservoirs of strength, leading to a life that transcends the boundaries of pain.
Mindfulness and psychological flexibility are our guiding compass on this journey. Mindfulness involves being fully present in the moment, embracing both the sensations and the emotions that arise. As we assist our patients in their movements, let us encourage them to connect with their bodies, to listen to the whispers of their physical sensations. This mindfully flexible stance not only enhances the effectiveness of our therapeutic interventions but also empowers our patients to be active participants in their own recovery.
Positive growth is the heartbeat of salutogenesis. By nurturing an environment that focuses on strengths, we enable individuals to experience growth that springs from within. Through gradual progress and achievements, they gain confidence and realize their potential to overcome pain's limitations. It's in these moments of growth that true empowerment is born, inspiring them to embrace life with renewed vigor.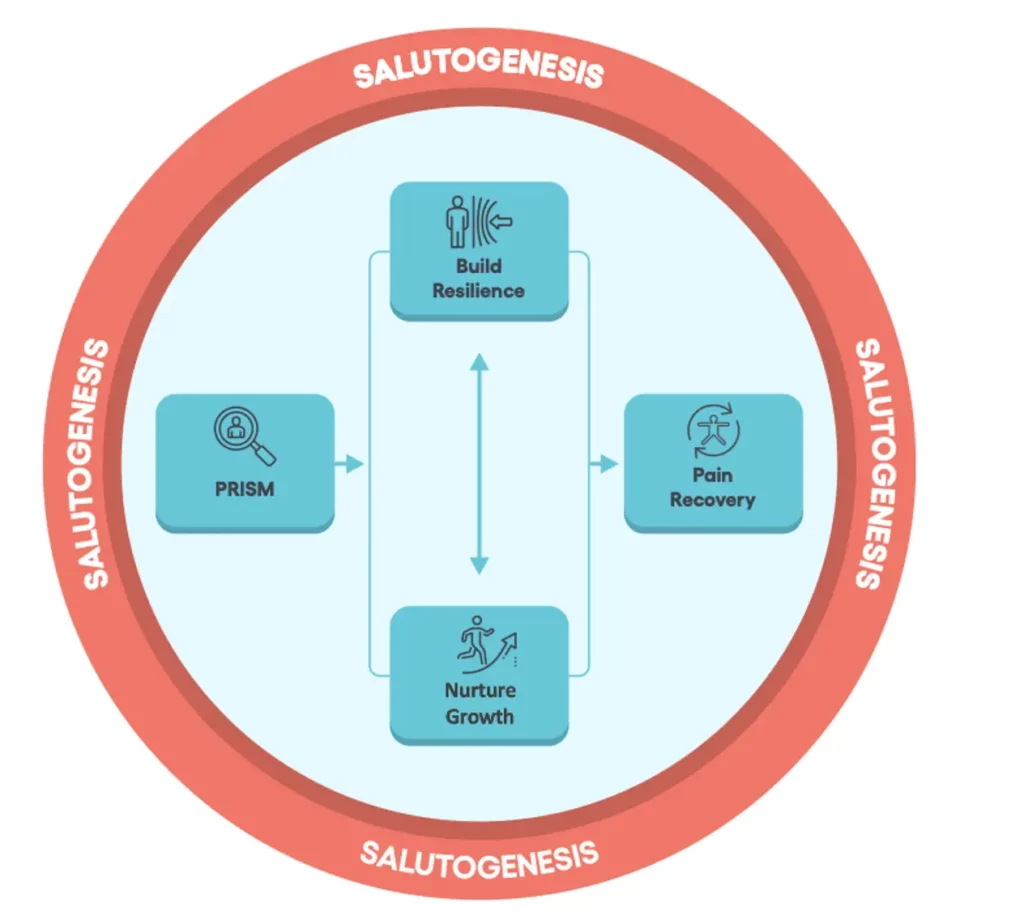 In closing, let us remember that we are not merely therapists, but catalysts for positive change. The path of salutogenesis calls us to lead with hope, resilience, and the belief in the human capacity for growth. With each step we take alongside our patients, we illuminate the path to a life that transcends pain and embraces the boundless possibilities of positive growth.
I leave you with these words by the originator of salutogenesis: "Wellness is more than the absence of illness. It's a dance of resilience and growth." – Aaron Antonovsky
To learn more about the evidence supporting salutogenesis in pain management read our team's landmark paper in the Journal of Physical Therapy called: PRISM – Pain Recovery and Integrative Systems Model: A Process-Based Cognitive-Behavioral Approach for Physical Therapy.
May we continue to guide our patients with courage, nurturing the flames of resilience and fostering the journey of positive growth.
With sincere appreciation for your dedication to the journey of pain recovery,
Joe Tatta, PT, DPT
Founder
Integrative Pain Science Institute
https://integrativepainscienceinstitute.com/