Welcome back to the Healing Pain Podcast with Jazmine Tooles, PT, DPT
If you have been following along with this show for some time, you know the one area that interests me. A question I often ask myself and propose to you is how can we educate the public about effective pain management and raise awareness of the physical therapy profession? I have been working with a select group of professionals one-on-one on different types of outreach projects and protocols as well as connecting with innovative physical therapists who have created practice models or businesses that center on health promotion or raise awareness of the PT profession.
In this episode, you will meet Dr. Jazmine Tooles. She is a physical therapist who created the business called Explore the Magic of Motion. Explore the Magic of Motion was created in 2012 to raise awareness of the physical therapy profession. The way Jazmine achieved this was by working with the Girl Scouts of America to develop an approved Girl Scouts patch or badge. Jazmine is also a lifetime Girl Scout herself and created these patch programs to teach 6th to 12th grade Scouts about healthy living through exercise while also having them investigate the professions that utilize exercise for healing such as physical therapy.
Fast forward, Explore the Magic of Motion is a full business that has reached over 500 participants since its inception. It has grown to provide an interactive health and wellness learning experience not only for the community but also for clinicians as well as students. In this episode, you will learn about how Jazmine developed Explore the Magic of Motion, its history, what it offers now, and who it serves. Without further ado, let's begin and meet Dr. Jazmine Tooles.
—
Watch the episode here
Listen to the podcast here
The Magic Of Motion: Innovations In Physical Therapy And Health Promotion With Jazmine Tooles, PT, DPT
Jazmine, welcome to this episode of the show. It is great to have you here.
Joe, I'm happy to be here.
I'm thrilled to talk to you. A colleague of mine, Kerstin Palombaro, and I started this program called the Pain Innovator Program. Our goal was to help therapists create and innovate products, programs and protocols. A lot of PTs and other healthcare professionals reached out to me and said, "The program sounds great. I'm excited. Let me know when the second cohort comes around, but I'm not sure I have anything to create. I don't know what to create. What can we create as healthcare professionals?"
I started looking online at all these different products and programs. I came across your organization or company, which is called Explore the Magic of Motion. I found it to be so refreshing, innovative and unique. I said, "I have to have you on the show to talk about it." You are a PT. You have your DBT. You graduated from the University of Delaware. I know there is a whole story and history, and a lot of your life has found itself in this program. Tell us a little bit about your background and yourself, and how you started to form your company called Explore the Magic of Motion.
I was born in Pennsylvania and grew up in New Jersey. I am a licensed physical therapist in both New Jersey and Pennsylvania but I primarily practice in the Philadelphia area. I came across or started to explore the Magic of Motion back when I was a student in PT school. It started as my interest. Being a Girl Scout, I was very much involved in outreach events and programs. That was something I enjoyed about being a Girl Scout. Also, as a Girl Scout, what I always loved was that I got to learn about new things or experiences.
I remember doing a mock shuttle mission. We went to an airport and learned about planes. It was a great opportunity to see what exists in the world. However, one of the things I was not exposed to was physical therapy. I was exposed to that from a sports injury. Fast forward a couple of years, I'm in PT school. We are at a conference from the American Physical Therapy Association where they are talking about the community awareness of what physical therapists do outside of massage.
I reflected on my experiences as a Girl Scout. I was like, "Why do not we make Girl Scout badges?" For folks who do not know, Girl Scout badges are a way to incentivize the girls to learn about these different topics or areas. They can wear the patches on the front of their vests. They get a list of activities they need to do to learn about that topic to earn the badge. My thought was, "Why don't we create physical therapy badges? The girls will be incentivized to earn them and learn about the profession. Ultimately, the parents ended up learning about it as well."
That idea was born in 2011. Fast forward to 2012, I created the physical therapy badges and they were approved by Girl Scouts USA as a Council's Own badge. A Council's Own badge means that a specific council owns that badge. If the Scouts in that area earn it, they can wear it on the front of their vest. From there, I created an event.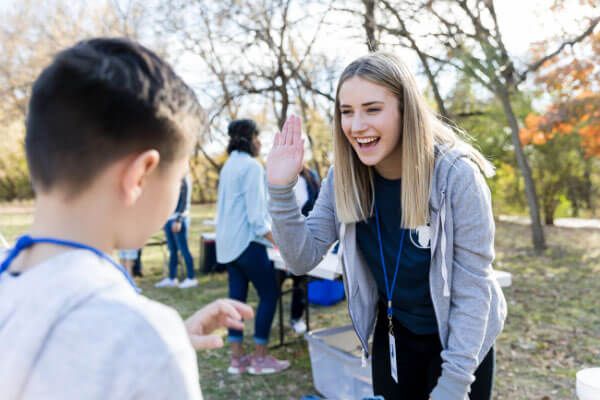 You brought physical therapy to Girl Scouts.
Yes. It was exciting. I was happy to see how much the council was willing to work with me. They showed me badge outlines. They were excited to bring on the program. They were Council's Own badges from 2013 to 2018. Unfortunately, they don't do that program anymore. Now they are just offered as fun patches, which is not that big of a deal because when I was offering the patch to other councils, they technically had to wear the patch on the back of the vest anyway. It was considered a fun patch. It is just a technical difference. What happened from there is I created an outreach event.
The Scouts would come in. We first hosted at the University of Delaware, my alma mater. We had 40 Scouts come in. Forty of my classmates helped participate and ran a five-hour event. The Scouts were jumping around and learning different things. The students enjoyed it as well. The University of Delaware ended up implementing it as a service-learning project for the students annually. More folks were interested in it. I hosted it at different locations once I graduated across the state of New Jersey. I eventually decided to LLC because a lot of folks wanted to host it. I was trying to figure out a way to best spread it out.
I created this as a company almost like Zumba where it is a Train the Trainer program where you teach those physical therapists and physical therapy assistants, "Here is a simple template on how you can host an outreach event. Here is this patch program that will get the Girl Scouts interested in it and can bring them in." What's also great is that Girl Scouts are volunteers. What they learned from us, they will likely go out and share in the community as well. That is my roundabout answer as to my background and how I came to do this work of Explore the Magic of Motion.
You have strong roots in community outreach. That is how it began and the Girl Scouts are a big part of that. There is so much talk of health and wellness promotion. To this day, I still do not think a lot of professionals understand what health and wellness promotion means, but you put health and wellness promotion in motion. Your company, which is called Explore the Magic of Motion, grew out of that. Tell us where you are now with that company.
Where we are is trying to start to get folks to come in and become a host for Explore the Magic of Motion program. We have it broken up into three areas, Explore Motion, Inspire Motion, and Stay in Motion. Explore Motion speaks to the outreach piece. That is the more community-facing portion of it where it has a list of outreach events that we are hosting. I and my partner, Maria Aguila, are hosting events at clinics as we are able to. Hopefully, we can have that list grow as we recruit more PTs and PTAs who want to host as well. That is that community-facing piece.
Are the Explore Motion free events that you provide?
It is dependent upon what the host wants to do. We do charge a minimal fee. Usually, that is covered by the Girl Scout councils since those have been the main students that we have had. However, we do know other organizations. For example, I have spoken to folks from The Divine Nine. Those are typically African-Americans sororities and fraternities that do outreach programs for students of color. They are also interested in sponsoring tickets for students to have those events.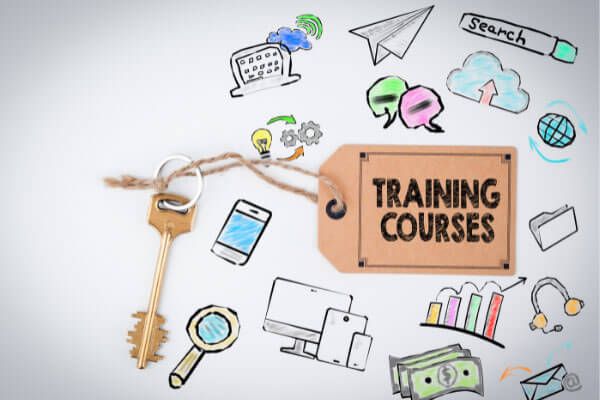 It is a very minimal fee. It is a low-cost event to run. Folks can also offer it for free. That is up to them once they complete the certification. That is the Explore Motion piece. The Inspire Motion piece is our cultural competence training. We have our certification course, Basic I, which is for students who are enrolled in a PT program. This allows them to get introduced to what the outreach programs are and then upon graduation and licensure, they can start hosting.
What's ideal for them is it gives them a wellness revenue stream if they so choose, trying to pay off those student loans, and get them out in the community. It is also something they can add to their resume when they get a job. Basic II is for clinicians in practice. We teach them four of our outreach programs which take them to students from K-12th grade. The Advance program is more so for folks in the education system who want to bring this program to their students. They can train their students in that Basic I module to graduate and then become hosts.
That is our Inspire Motion training. Outside of the certification courses, we will also be coming out with general cultural competence training courses. It is things around implicit bias and that nature. Last is the Stay in Motion. That is more of our membership. Once you become a host, we do ask folks to become a member. It is a very minimal fee but it allows you to have access to resources, event signs, and materials to host the events.
If they need a consultation with me on how to troubleshoot an issue or set up a program or if they need help in planning out how they want to lay out the event in their facility or with registration, that is where that portion of the program falls. Those are our three pillars to try to make these programs successful by letting the community know they exist, teaching folks how to host them, and then making sure we support those individuals who want to host the programs to be successful.
Explore the Magic of Motion is the company. You have these three essential pillars as part of your company, which are Explore Motion, Inspire Motion, and Stay in Motion. We get the Explore Motion part. Tell me what the Inspire Motion looks like in a real-life setting.
I can talk about our basic two courses because that is the one that we have coming up first on March 31st, 2022. That is an eight-part series. The sessions are about an hour and a half. It is composed of first, going over general introductory topics on what cultural competence is. What is acculturation versus assimilation? What is implicit bias? Do we have biases? How do they impact treatment? How does outreach allow you to work on your implicit bias?
We know that oftentimes, a lot of clinicians may not live in the communities they serve or maybe aren't exposed to certain folks until they are in the clinic. Our patients are not feeling well so they are not necessarily in the best mood or the friendliest. That can influence the biases we have. By doing this outreach piece and getting to know your community before they are sick, we can build better relationships. Within these different sessions, we also introduced what is Magic of Motion. That is one of the events folks can host.
We talk about the different workshops within that. For example, it is comprised of students rotating through three specific stations. In Follow Your Heart, they learn about heart rate and blood pressure. In Muscles & Machines, how do you make a workout? In Stretch, before and after, what muscles are you looking at? In Stress Strategies, how does exercise help you manage your stress? What is mindfulness? Create a stress ball or something that they can take away with them.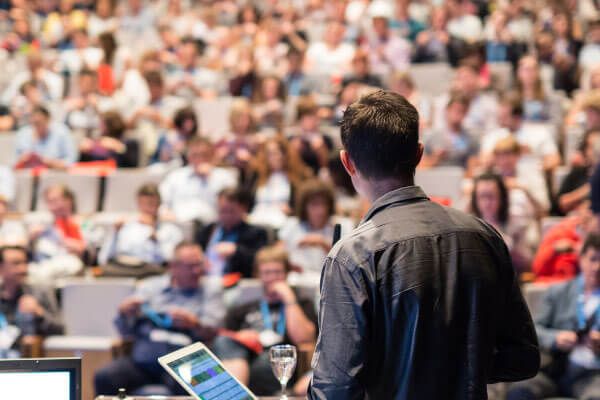 We go through within the training course how that is supposed to look, how you can plan that out, and how do you build your team around that, to get volunteers to help you put out the event. What's also integrated into the course is that by the end of the course, you should have an event tentatively planned. That is one of the outcomes. We are looking for folks that once they complete the training, go out and then host an event.
The Inspire Motion piece is teaching people basic body awareness about their body, and how some of the different organs and systems function in their body.
That is what the Explore Motion programs are teaching the community. The Inspire Motion programs are teaching why we are teaching these things in the Explore Motion program.
That is the trainer piece of it, which is key because you have the educational piece for the person in the community, and the trainers to grow your greater mission. How many trainers have you trained so far?
Zero. That is why we are looking for folks.
That is why I had you on because there are a lot of people who will be interested in this. The Train the Trainer model is specifically important for you. Anytime you have a community outreach piece of it, you need that other person because it's just you and you have some colleagues who you started this with. You are just one or there are three of you, but you need more people to grow that mission and go into the community to reach out to people.
There has been some hesitation also because of COVID. People are not looking at, "How am I going to do an outreach event if we can't go out?" We did also incorporate ways to transition the programs that make them virtual as well to meet people halfway because not everyone is going to be open and willing to do outreach events initially. We do understand that and that has been a part of the delay in getting things going. Hopefully, as things are starting to wind down a little bit, folks will be more interested and we can get them on board.
You have been doing this for how many years?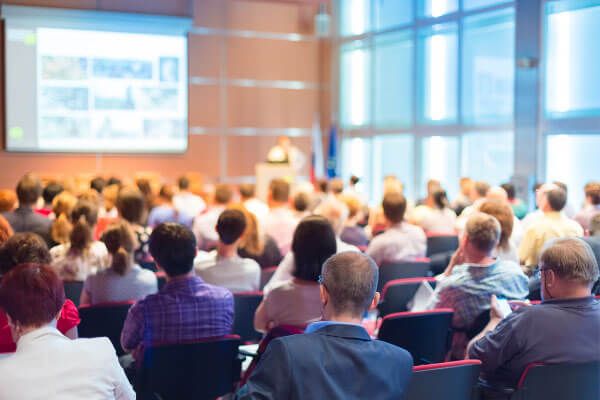 It is ten years in 2022. Up until 2018, I was doing everything for free as a volunteer running the events. If folks wanted to host it at their clinic, I'm like, "Sure, let's do it." 2018 is when I officially LLC it and started working on, "How do you make this a business?" That was a whole interesting experience in itself. To me, business does not always fall in line with what we think of as healthcare providers. It goes against our natural essence, but understanding that the structure needs to be there to promote longevity was beneficial.
In your research on transitioning this to a business, were there models that you looked at that were similar? Did you have other inspirations that you pulled from and looked at with regards to, "This is working over there. Maybe I can take a little piece of that and use it here?"
I looked at two programs. One was the Tai Chi for Health Institute. I am a certified Tai Chi instructor. It is a similar model to Train the Trainer and you maintain a membership. I also looked at Zumba. It is functioning very similarly to Zumba. You are an instructor. You get certified to host the trademark programs and then you can go out and do with it what you want within the means of maintaining your membership. Those were the two models. Zumba especially helped me figure out, "This is how it can work."
Zumba is a great model if you look at the business aspect. They have grown very fast in a short period. What have you observed over the years as you have been implementing this in different places and meeting different people?
It has been interesting. I learned things on the volunteer providers' side and then on the community side. On the community side, the first thing I noticed were issues with diet and body image. At our first event, we did have a girl who passed out or became lightheaded. The activities we have the students do are not very aggressive. It says something, whether she was not healthy enough to do it. I do not think she had eaten breakfast, so that was one. We made sure we started incorporating breakfast as a part of the event.
At another event, the clinic I worked at was so proud. They laid out this whole spread for the Scouts. They had all these different foods, fruits, danishes and muffins. They are so proud of this spread. The girls didn't touch it. It is like, "Why?" It ended up being body image issues, not realizing how they are thinking about food. They are like, "I do not want to be fat." Whatever those body image preconceived notions were was an interesting thing to observe at this event. That was the first thing with diet and body image.
The next thing was in one of the workshops, Follow Your Heart, we teach them about blood pressure and heart rate. What we were finding was that some of the kids, especially ones in more disadvantaged ZIP codes, were having higher rates of blood pressure at rest. You would also see it correlate to how well they were able to move during the activities and what snacks they were choosing to snack on. That became also a window of opportunity to have that conversation with the kid and potentially their parents if they were there about, "Their blood pressure is high." It was starting to act almost like informal health screens.
The other thing that happened was because the event is fun, it is not like, "Here is a PowerPoint presentation. These are what PTs do." Instead, you are getting up, moving, doing arts and crafts, and talking to people. They feel more comfortable connecting with the volunteers or the providers that are hosting these workshops. They will pull them aside and say, "I have a question."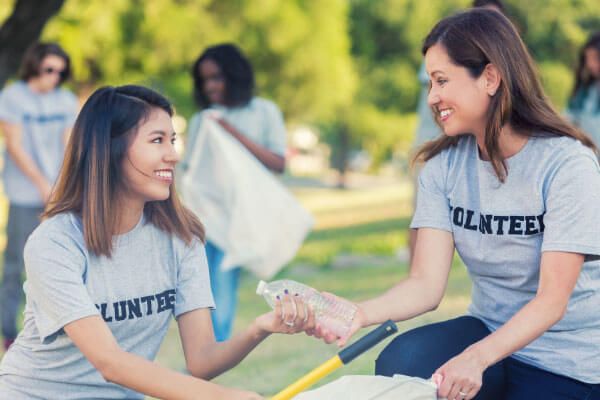 One of the girls pulled one of the volunteers aside because she had a personal health question. It had something to do with women's health issues. She didn't know where to go. That was an opportunity for the volunteer to say, "I can educate you on this or direct you. If you want me to talk to your mom or dad, I can do that to give you an idea of where to go." That is what we want. It is that comfort within the community with healthcare providers to have those discussions.
The last thing was that kids were interested in healthcare professions after that. Folks would follow up with me afterward like, "Is there a way I can shadow to learn more?" That was great for the community and all those things that we have been able to see so far. On the provider volunteer end, the biggest thing was working on interpersonal skills, especially for students. The University of Delaware has hosted it annually as a service-learning event for the students.
I have been able to talk to my professors and see what has happened at events, what was funny, and what kinds of things have occurred. It is watching the students learn how to navigate those interpersonal discussions like practicing asking for consent. In one of the workshops, Tech That Treats, we show them an E-stim unit and how it makes your muscles move. The kids like that. There is always one kid who was like, "Put it on me." The parent is there. They are like, "That is fine." You are like, "You are not a patient. I do not know if we want to do that."
In that real-time, how do you navigate that conversation? That is something that can happen in the clinic in a different way. It has been a great learning experience for students in that, and also a great networking opportunity. Folks can volunteer from wherever and come to wherever that clinic is. It allows them to learn about that employer and network with other healthcare providers. Everyone comes home with a win.
What's interesting to me is that as you are going in and exploring the Magic of Motion, you are also starting to explore other parts of health, wellness, prevention, and even disease itself, which is huge. As a DBT, you are now starting to pull on all your skills from lots of different areas, some areas that we have a significant amount of training, and other areas that we just touch on in school that some of us need to explore a little bit more when we come out. It is things like nutrition and things like that. That is incredible because so often, PTs wind up in a certain specialty. We think our skills grow as we specialize. Sometimes they become narrower in a way. It is interesting for me to hear your story and to hear that there is a lot of your PT skills and personal history that has gone into this organization.
Even with how I planned out the events and what they would learn about, it was ideal that I started creating the program when I was a student because that is when most of all this stuff was fresh. We do have the skillset. We should be the ones creating these kinds of outreach programs because not only are we thinking about the physical wellness and the safety piece of it, there is so much in that.
You can get burnout that way too. That is why I also like this because it gives me something different to do. It is a different kind of intensity. You are still helping folks but how you are focusing and what you are thinking about are a little bit different. This can be a little bit more lighthearted but still can have a huge impact, even thinking outside of physical wellness. There's Bill Hettler's Dimensions of Wellness. He talks about occupational wellness being one of the things.
This is a way we are also helping to advance health and wellness by introducing to these kids other professions that they can pursue. It's not only understanding the services and how they can use them, but you can apply this in your life, "I can become a physical therapist, be an advocate for people in my community, and have financial stability." That is what's going to bring up equity in healthcare as well. It is not just addressing the problem of physical health issues once they are already here but what can we do before that.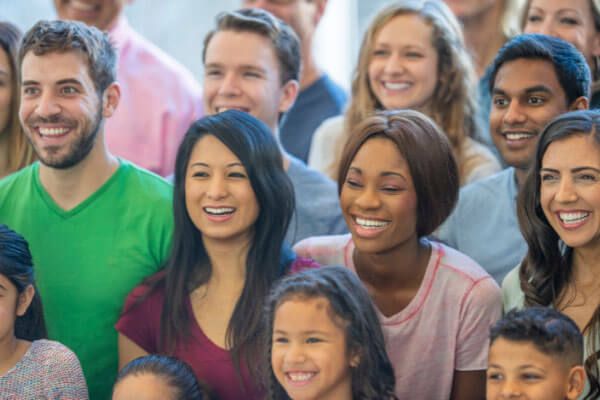 The communities you are going into are people of color at times, not always, and you are exposing them to PT, which pretty much is a White professional at this point. It is great because we need more providers who look at our patients and who have a lived experience that is similar to our patients. You have been doing this for years. Where would you like to see this? What does this look like ten years into the future?
Hopefully, it is in every state. That is my goal. I would love for it to be a nationwide thing. Even if there is one person in each state that is doing it, that would be great because it is allowing us to get exposure to different demographics and also collaborate on, "We notice this is more of an issue in Washington State and this is more of an issue in New Jersey. How can we fix that?" It would also help fuel hopefully the pipeline into the PT profession. I have heard things where the amount of students that they are getting to apply to PT school is starting to decline. We want to increase that.
I'm biased with physical therapy because it has been such a big part of my life for so long. I tore my ACL in high school. Physical therapy has been a part of my life since I was fifteen. I do not know anything else. Also, people do not realize the breadth of what we can do. When I was doing research on how to develop this into a business, I got a chance to interview different folks. One of the questions I asked PTs and community members was, "Do you think the community knows what the PTs do?" I would talk about what PTs are doing. Overwhelmingly, it was like, "No."
PTs didn't feel like the community knew what PTs did. Members of the community didn't know. In the middle of a conversation with someone, they were like, "I have a TMJ issue." I was like, "PTs do work with that." They are like, "I had no clue." People live their whole life dealing with an issue, not recognizing that a PT can help them. Even I have had health issues. If it was not for me networking with my PT colleagues, I might not have figured out some of the things that I was dealing with. We are very valuable. I want other folks to see that as well in addition to people being healthier in general.
How many states are you in now?
I'm licensed in Delaware, New Jersey and Pennsylvania, but I have the opportunity to expand. It is just a matter of who has an interest. Let me know. We will be there.
There are lots of very populated states that border those states that could use this type of service. I'm going to put the intention out there that someone who reads this is going to reach out to you and say, "I want to start this in New York State, Michigan," or wherever it is that people are looking."
That is another thing. The certification courses are eligible for Continuing Education units as well.
People are going to want to get involved and they want to learn more about you and your work. How can they follow you and learn more about Explore the Magic of Motion?
There are several ways. You can go to our website, www.ExploreTheMagicOfMotionLLC.com. You can also follow us on Facebook, Twitter, or Instagram @ExplorePTMotion. You could always email me directly at [email protected] and I will get back to you right away. Please reach out. Also, we do have some events coming up. If folks want to get an idea of what that might look like, you could always volunteer. On the website, you will find dates for information sessions that I'm hosting. If folks want to learn more about what the programs are, what the training looks like, and what it means to be a host, we are offering those as well.
I want to thank Dr. Jazmine Tooles for being on the show. I ask you to share this important episode with your friends and family on Facebook, LinkedIn, Twitter, Instagram, and wherever anyone is talking about the importance of health, motion and physical therapy. If you can, take a screenshot of this episode and tag both me and Jazmine. We will be happy to tag you back and be social with you. Thanks for joining us.
Important Links
About Jazmine Tooles, PT, DPT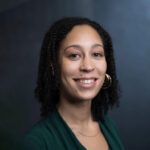 Jazmine Tooles, PT, DPT is Director of Explore the Magic of Motion LLC and a licensed Physical Therapist who specializes in traumatic brain injury, and vestibular dysfunction. She is a trained Functional Work Capacity Evaluator, Tai Chi Instructor and former BIANJ Support Group Coordinator. As a lifetime Girl Scout, Dr. Tooles has extensive experience developing and hosting community events with up to 100 participants. Engaged in diversity initiatives since childhood, Dr. Tooles is a former American Conference on Diversity (formerly known as "Anytown" Lead for Diversity) participant, Temple's National Council of Negro Women member, University of Delaware's Black Graduate Student Association member, formerly chaired APTANJ's Cultural Diversity Committee, and currently chairs APTA PA's Minority Affairs Committee. Dr. Tooles also leads Einstein's Healthcare Network Cultural-Diversity Special Interest Group and is the host of Einstein Voices: A Staff Podcast on DEI topics. She is an Adjunct Instructor at Temple University, guest lecturers for various Physical Therapy programs, and has presented nationally, including at APTA's Centennial Future of PT Summit 2021 as a keynote speaker.